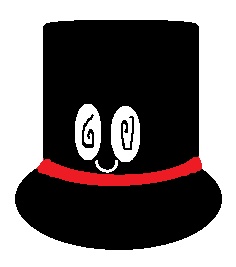 This is my awfull attempt at creating a pokemon XD This guy looked so much better in my head XD
I hope you can do better...
anyways...
Name: Topsi
Stats
HP: 100
Attack: 75
Defence: 95
Sp. Attack: 100
Sp. Defence: 95
Speed: 60
Type: Dark/Ghost
Species: Magic Hat Pokemon
Abilities: Hypnotherapy - The Pokemon raises a random stat every turn if confused. Also, the pokemon is unable to hit itself in confusion.
Dream world Ability: Magic Guard - Prevents indirect damage.
Signature Moves:
-Dizzy Trick - Other - Dark - Power 0 - Accuracy 100 - Confuses all Pokemon including the user, may also lower the Sp. Defence of enemy Pokemon by 2 stages (20% Chance)
-Secret Trick - Special - Dark - Power 55 - Accuracy 100 - This Attacks Power Doubles when the user is Confused.
-Random Trick - Special - Ghost - Power 85 - Accuracy 95 - The Attack has a 20% of having one of the following effects on the Target: Confusion, Burn, Poison, Badly Poison, Sleep, Paralasis, Random Stat Lowering, Random Stat Heightening)
Description - When a magician passes away, their hat may reanimate into a Pokemon known as Topsi. Topsi are kind creatures, often being friendly to any Pokemon they see and performing magic tricks for young pokemon. If worn by a Human, the human is able to perform magic tricks without fail, However they will be completely unaware of what they are doing.
_________________

So Pround... Kinda:
Contact Me!! Check my Profile!!